---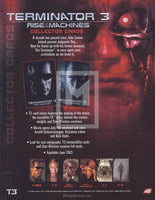 You are looking at a Trading card Dealer Promo Sell Sheet  from Terminator 2: Judgement Day FilmCardz.
This exclusive Dealer Promo Sell Sheet features the characters from James Camerons Terminator including Arnold Schwarzenegger | Linda Hamilton | Sarah Connor | Nick Stahl | John Connor and more.

Produced by Comic Images in 2003.